Instructional Design + eLearning Development + Graphic Design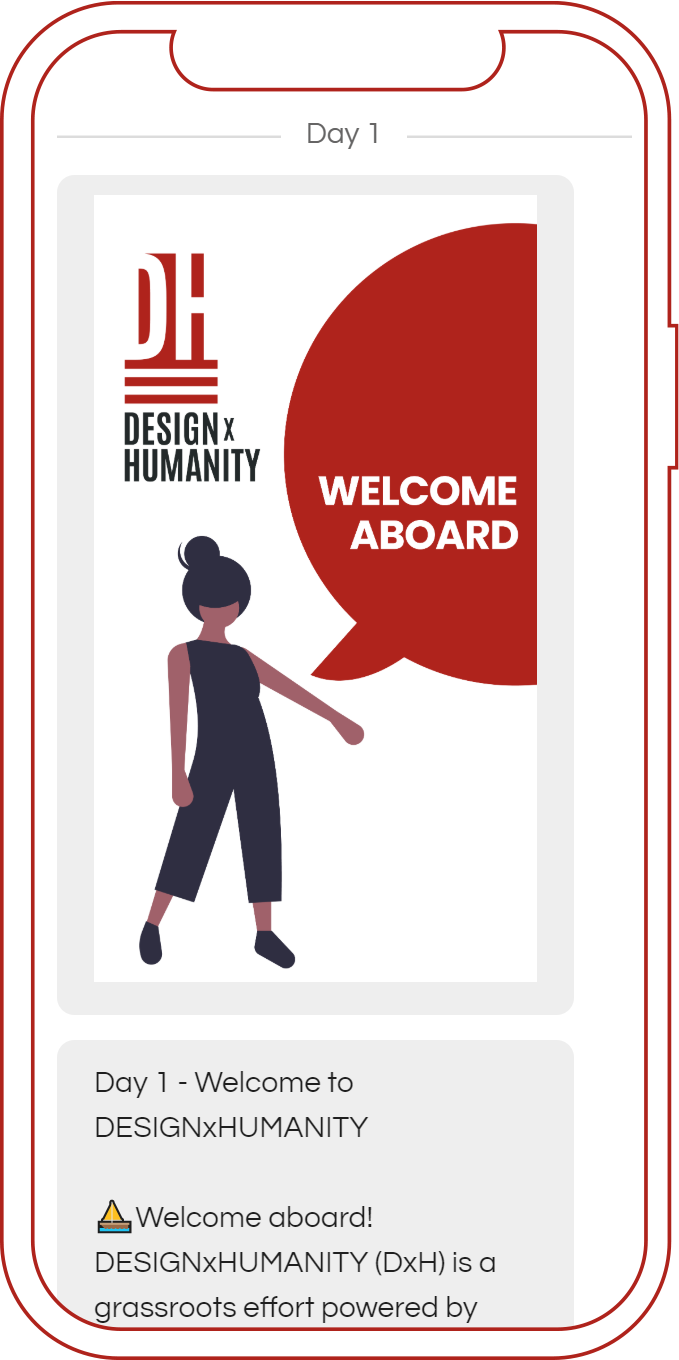 SMS-Based onboarding training developed in the Arist mobile microlearning LMS.
DESIGNxHUMANITY is an organization that reflects so many of the reasons I'm passionate about eLearning and instructional design.
Their mission is 
"To create transformative experiences for people committed to the pursuit of continuous learning through charitable action. To mentor creative learning professionals, and to advocate for equity,diversity, inclusion, and anti-racism."
Primary Graphic Designer
•Develop a visual theme focused on diversity and inclusivity
•Expand on brand style guide
•Create a scene to introduce each lesson
Junior Instructional Designer
•Work directly under senior instructional designers
•Storyboard and develop written content
Technical Writer
•Author help documentation
•Gather and centralize resources
SMS learning presents a particular challenge: It's text—heavy.🥁
To offset this, each day of an Arist course has the option to include a single image. I took advantage of this spot to tie in the DESIGNxHUMANITY brand with a visually striking scene to accompany each lesson.
An image is a puzzle. Viewers go to work "solving" the message in a graphic as soon as they see it. This gets learners thinking and prepares them to better engage with the lesson.
These introductory scenes tell a story, create a rhythm, and set the tone for what lies ahead—both in the onboarding training and in the volunteers' future with the organization.
Weeks after DESIGNxHUMANITY was formed, they experienced a huge influx of volunteers. 
The organization needed an easily distributable solution to guide incoming volunteers through necessary paperwork, introduce them to the organization's core values, and most importantly, make them feel valued as members of the community.
I collaborated with an exceptional team of 3 others to build this onboarding training solution from start to finish over a tight timeline and we piloted the course in just two weeks.
Arist SMS-Based Onboarding Training
Developed in the Arist LMS, this onboarding course is a text message-based microlearning experience.
Each day, for 6 days, users are introduced to a new concept, such as the organization's mission and vision, or an important sign-up step, such as the Volunteer Agreement.
Gradually introducing each topic encourages volunteers to provide thoughtful form responses and also to reflect on their personal mission, ultimately taking greater pride in their work with DESIGNxHUMANITY.
The course also serves to stagger the entry of new volunteers, giving administration more time to place new members on teams that align with their form responses.
Comprehensive and Personalized
Text messages are just the tip of the iceberg. They act as a personalized delivery system that lets us assess learners' prior knowledge throughout each lesson.
The DESIGNxHUMANITY community lives primarily in Slack, a platform that some incoming volunteers know like the back of their hands, while others have no experience with it at all.
Our training minds this and other knowledge gaps accordingly with branching sets of answers.
Of course we can't fit an entire company into a text message. As part of the development of this training, our team created a knowledge repository for supplementary technical documentation such as the DESIGNxHUMANITY Slack quick start guide.